Transformer Services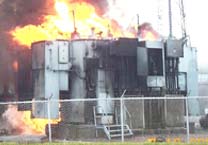 Through TECHSEN you have access to a large base of experienced, knowledgeable personnel, and state-of-the-art equipment to solve your plant needs. We will repair, maintain and test your transformers, power and distribution to manufacturer specifications.
We are available 24 hours a day to assist with your equipment maintenance and operability needs . Vast experience and knowledge of specifications are attributes which allow us to perform diagnostic evaluations, maintenance, and repairs on transformers, switchgears and
protection system .Whether you need one specialist for technical assistance or a crew of 10 + for a major repair. We provide the field service to keep your downtime to a
minimum and your uptime worry-free.
Transformer Maintenance & Testing
We take advantage of the latest developments in transformers maintenance and repair technologies and materials to provide you with reliable repairs. Repairs include:
inspection, testing as follow:-

TECHSEN offers the expert solutions to meet your electrical power system needs.